There are quite a variety of vehicles around McMurdo that help us get our work done. There are no cars here, only trucks and other utility vehicles. Some vehicles here are similar to those you'd find in the U.S., but bigger and badder! They have to be specially built to handle the weather and terrain of Antarctica. Other vehicles are unique, and you won't find them anywhere else!
We have a lot of pick-up trucks here for carrying cargo and supplies between buildings. Our pick-up trucks have bigger wheels, and the bodies are jacked up off the wheels. Larger wheels have more surface area in contact with the ground than smaller wheels. That means that the weight of the truck and the cargo are spread over a greater area, lessening the chance of sliding on the ice or loose gravel. All of the trucks are 4-wheel drive, and have special brakes that keep them from sliding when parked.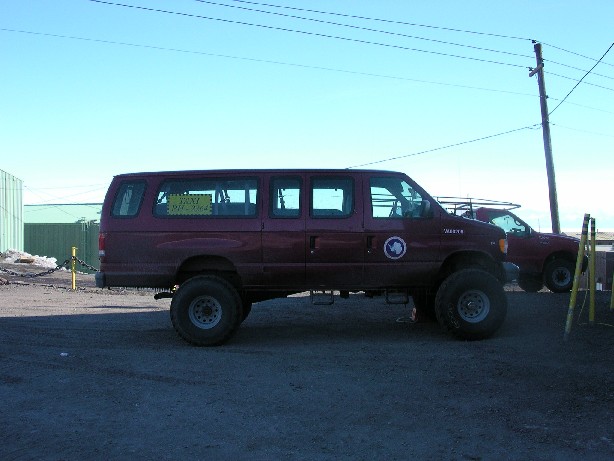 We also have taxis here at McMurdo for carrying people around town or between stations. These are not the yellow taxis like you'd find in the U.S., but 4x4 vans with big wheels!
Sometimes the trucks have special track wheels put on (like what bulldozers have, but smaller). These trucks are called mat tracks, and are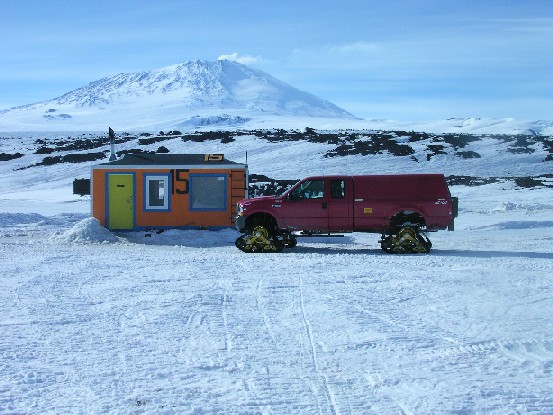 used to drive over the transition onto the sea ice. The track wheels can span crevices in the ice and keep good traction with the ground, so are safer than normal wheels for traveling on ice.
My favorite Antarctic vehicle is the piston bully. Piston bullies are used like pick-up trucks, but have a long track that allows them to drive in deep snow.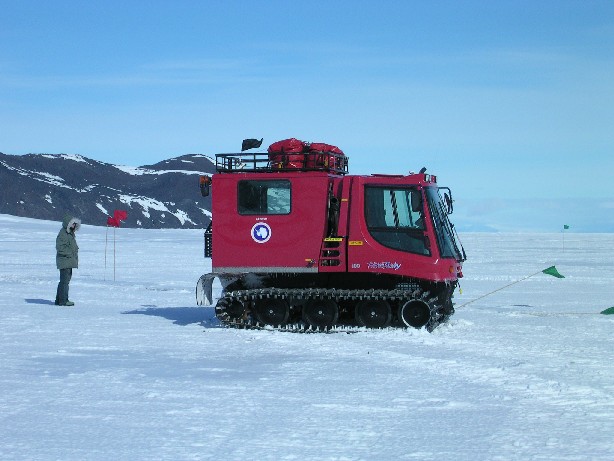 There are also other types of transport trucks that are special to McMurdo. Delta's are used to transport people on the ice roads out of McMurdo. You can take the Delta to get to the air fields, the New Zealand research base nearby, field camps on the ice, and other places on the sea ice. The tires are HUGE (taller than a second grader!). When you ride in the back of a Delta, you have to wear a seat belt. They're so tall that they rock very far when going over large bumps and cracks. If you're not wearing a seatbelt, you slide right out of your seat!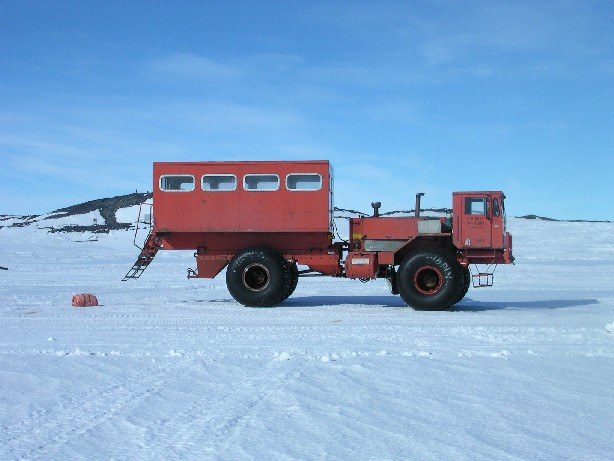 One of my favorite special transport vehicles is the terrabus. This bus carries people to and from the landing strip at Pegasus air field (which is where the plane lands to take us to and from New Zealand). Its name is Ivan the Terrabus. He moves very slooooooowly, but can carry a lot of people across the sea ice.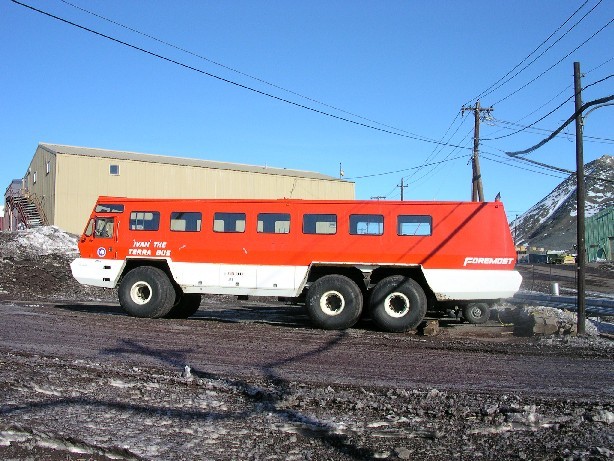 And, of course, there's my absolute favorite way to commute to work in the morning: helicopter! We have two types of helicopters here. Bell 212's are bigger helo's that can carry up to 8 people and a lot of cargo. A-Star's are smaller. They only carry a couple of people and not as much weight as a 212. But, I prefer A-Stars, because you can sit up front with the pilot!
Tomorrow morning, Elizabeth and I head back into the field to stay for 5 days at Lake Fryxell. We will use a variety of these vehicles to get us there!
[Photo credit: truck photos from
77DegreesSouth
and
B-518-M
.]